Single Hook Rerailer Carrier
This carrier allows for easy mobility of a Rerailer by providing carrying handles. The hooks can engage to multiple interfaces of the Rerailer to better suit the users preference. When two people use these hooks to carry a Rerailer they are abiding by OSHA's 50 lbs carry per person limit.
Locomotive Rerailer Carrier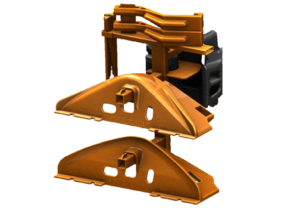 This carrying device combines all Rerailer devices into one system that attaches to a knuckle. This is particularly useful when traveling to a derailment site via locomotive. The Locomotive Rerailer Carrier offers an easy loading and unloading of all your Rerailer equipment.
Rope Rerailer Carrier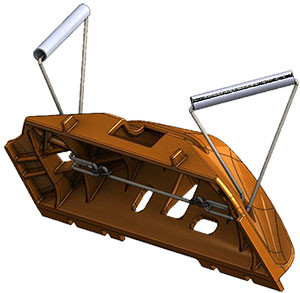 This is a rope-style alternate method of carrying the rerailers. This adjustable length carrier allows for a comfortable carrying height of the Rerailer. The Rope Rerailer Carrier also fits within OSHA's 50 lbs carry per person limit.