Problem:
Applying Lubricants To The Center bowl Does Not Work
High bearing pressure extrudes both lubricants and normal non-metallic liners from the centerbowl, leaving metal-on-metal contact. The result is poor curving performance and accelerated wheel and track wear. In extreme cases, track rollover and car derailment can occur.
Solution:
Pennsy's Durabowl - Horizontal Liners
The Durabowl's rugged high grade polymer was chosen for its low coefficient of friction, excellent cold flow resistance and ability to withstand high impact loads. It's easy installation eliminates the time-consuming process of welding dissimilar metals. Extensive lab and field testing has proven the Durabowl outperforms and outlasts all other centerplate wear protection products available on the market today.
Results:
Low Turning Resistance Improves Curve Negotiation; Coefficient of Friction 0.27
Cold Flow Resistance Withstands High Bearing Pressure and Eliminates Extrusion
Easy Drop-in Installation
Eliminates Metal-on-Metal Contact, Drastically Reducing Costly Repairs
Lab and Field Testing Have Proven Longevity and Performance
Durabowl
Applications
Specifications:
Color: Black
AAR Approved
Patent No. 5,443,015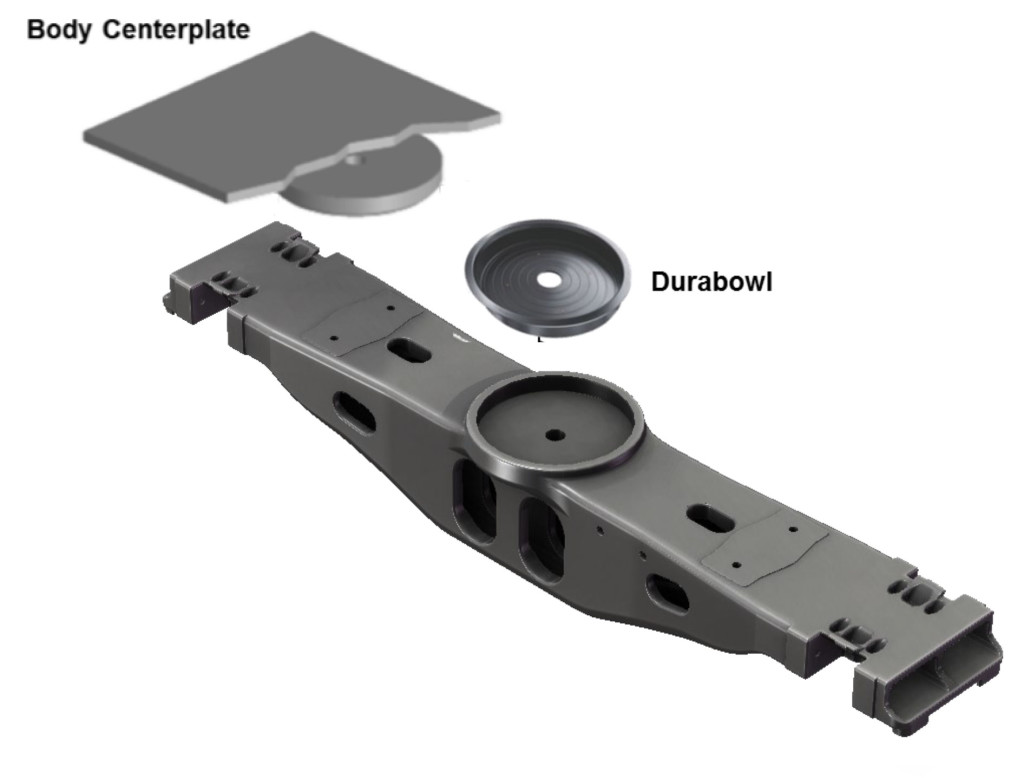 Durabowl Size
Durabowl Part No.
Application Drawing
16″ x 2″ STD
PN1563
PN1567
16″ x 2-1/4″ STD
PN1565
PN1567
Notes:

REFER TO AAR SPEC. S-308 FOR DIMENSIONS AND TOLERANCES OF BOLSTER CENTER PLATE BOWLS
REFER TO AAR SPEC. S-206 AND S-207 FOR DIMENSIONS AND TOLERANCES OF BODY CENTER PLATES