Problem:
Brake Actuator Travel Inspections Are Inaccurate or Are Bypassed Completely
The inaccuracy of current devices for inspecting the range of truck mounted brake piston travel and the additional labor related to this routine inspection frequently lead to an increase in unnecessary or inadequate brake adjustments or, in some cases, completely bypassed field brake inspections. Unnecessary adjustments can result in increased maintenance costs and premature wheel and brake wear. Inadequate adjustments and bypassed inspections create a potentially hazardous situation with underperforming braking.
Solution:
Pennsy Brake Actuator Indicator
The Pennsy Brake Actuator Indicator is a simple, cost-effective mechanism to enable instant identification of the need for brake system adjustment during inspections on TMB-equipped rail cars. It installs in minutes without tools or welding, and helps reduce the safety risks and increased maintenance costs resulting from improperly adjusted brakes.
Results:
Easy-to-read visual adjustment indicator saves on brake inspection times
Indicator accuracy eliminates guesswork and unnecessary brake adjustments
No Tool – No Weld installation saves on labor and eliminates railcar down time
Innovative design maintains indicator accuracy independent of truck component wear and brake rigging slack/tension
Advanced polymer construction is virtually indestructible and impervious to harsh railroad environmental conditions
Simplified inspection process increases likelihood of thorough brake safety inspections
Instant and Accurate
TMB Piston Travel Inspection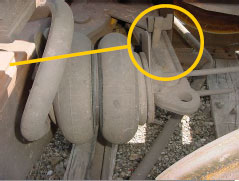 "Goal Post" travel indicators lose accuracy as components wear
Indicators often become bent or damaged in use
Require inspectors to crawl under car to check piston travel
Simple No Tool – No Weld installation
Mounts directly to piston travel measuring plates
Provides accurate travel readings independent of brake component wear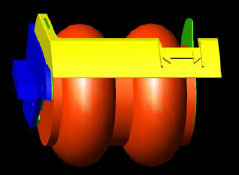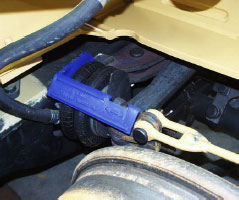 High Visibility – Easy to read without crawling under car
Reduces inspection time and increases worker safety
Durable and Corrosion-resistant